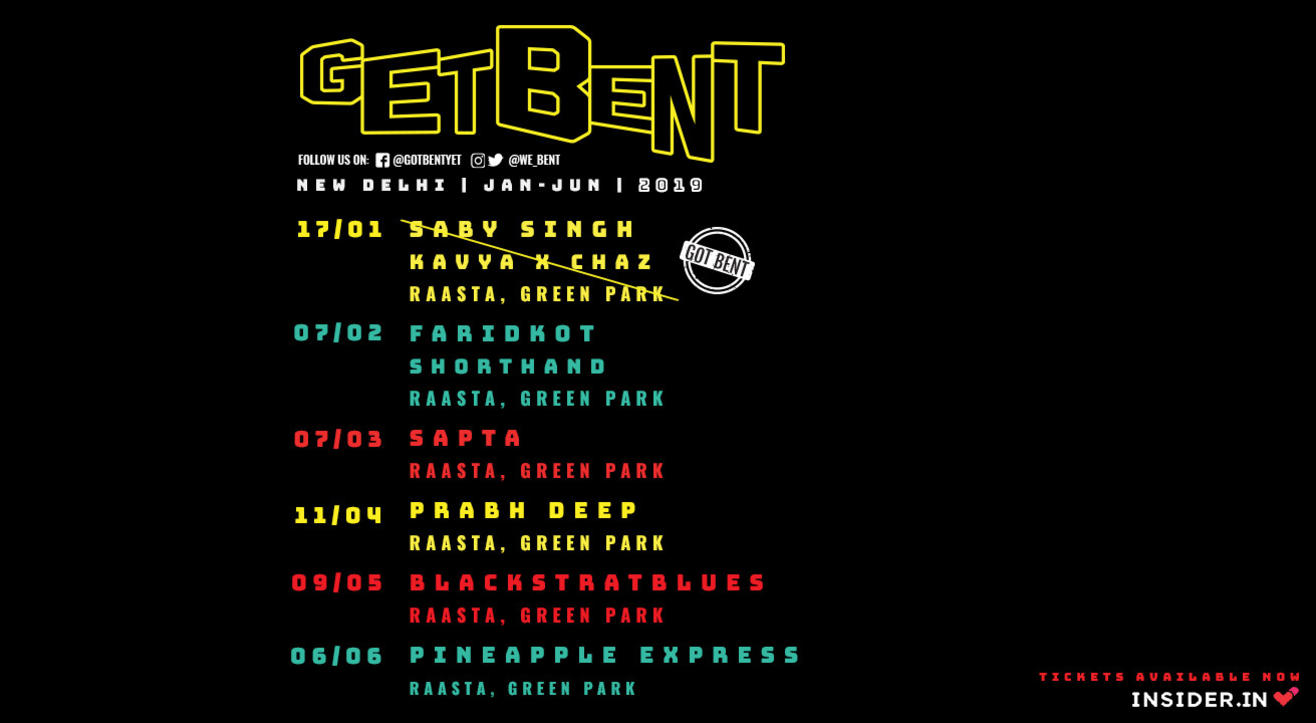 Music
About
A pub-only monthly live music and experience property with easy access for the communities of Delhi, Mumbai and Bengaluru. Hosting an artist line-up across genres to give something more wholesome to our people. We're gearing up to GET BENT. Are you?
Opening Artist | Saby Singh
Based in Chandigarh, he is a classically trained musician with a background in Hindustani Shastriya Sangeet. He started writing music at the age of 15 and derives his influences from alt-rock, indie-pop/rock, folk, neo-blues.

Closing artist | Kavya x Chaz
An artist collaboration from Delhi comprising of Kavya Trehan, vocalist of the dance and grime band "MOSKO" and Chaitanya Bhalla from the highly acclaimed, "The Skavengers". They have toured with their respective bands and now have joined forces to release tunes with an explorative sound dabbling in electronica, folk and hip-hop.
Opening Artist | Faridkot
Formed in 2008, faridkot have travelled the length and breadth of the country making people dance ever since. Known for their genre 'confused pop' they've released two albums, both of which were nominated for best rock album at radio city awards. With 500 plus shows under their belly, Faridkot is ready to GET BENT and to take you all on a magic carpet ride!

Closing artist | Shorthand
Their original music is dynamic and versatile, knitting together the different influences that each band member brings in. Through several live performances and official releases, the band has set a positive trajectory in motion, while working hard to constantly evolve as a group, hoping to expand to wider audiences and bigger stages.Shorthand is all set to release its debut EP in early 2019.
Headlining | Sapta
Conceived by Marti Bharath in 2007, SAPTA is a groundbreaking independent electronic music act that seamlessly blends influences from India and the West to produce an energetic and compelling live act, with a global following.
SAPTA's unique soundscape draws on an eclectic mix of original electronic sounds, synthesisers, infectious rhythms and catchy vocal melodies that thrive on a live audience. The music draws on Marti's experiences of living and performing in San Francisco, Paris, Dubai and India, and it all comes alive with live instruments, thumping percussion, soaring vocals and a few surprises along the way.

TBC (Support)
Headlining | Prabh Deep
Gifted with a unique voice that contains traces of traditional Punjabi folk singers, he is widely acknowledged as one of the best underground MCs in the country. Besides being a recording artist, he also pushes for and organizes MC Battles in the city. Born and brought up in Tilak Nagar, his music paints a vivid picture of growing up in a locality that's reeling from high unemployment rates and the recent influx of drugs in the community.

TBC (Support)
Headlining | Blackstratblues
It is a solo project of Warren Mendonsa, who is a guitarist, composer and record producer. He is the nephew of Indian musician and celebrated Bollywood composer Loy Mendonsa of Shankar-Ehsaan-Loy.
Blackstratblues' debut album, Nights in Shining Karma was released on 18th April 2007 as a free digital-only download. The album garnered significant appreciation and popularity on online music forums.
With golden tones and unassailable taste and touch, Mendonsa echoes Gilmour and Johnson without being derivative of either. Nights in Shining Karma is surely the 'I'm here!' album from an emerging master.

TBC (Support)
Headlining | The Pineapple Express
It is a progressive fusion band, making their mark across Carnatic, rock, experimental, electronic & djent elements. They are mainly known for exploring a diverse range of genres effortlessly and delivering high energy live audio-visual performances. Their signature, one of a kind, song-writing style is something to be experienced live.

TBC (Support)
Venue
Raasta Green Park
A2/A, Second Floor, Aurobindo Marg, Green Park, Block A, Green Park Extension, Green Park, New Delhi, Delhi 110016