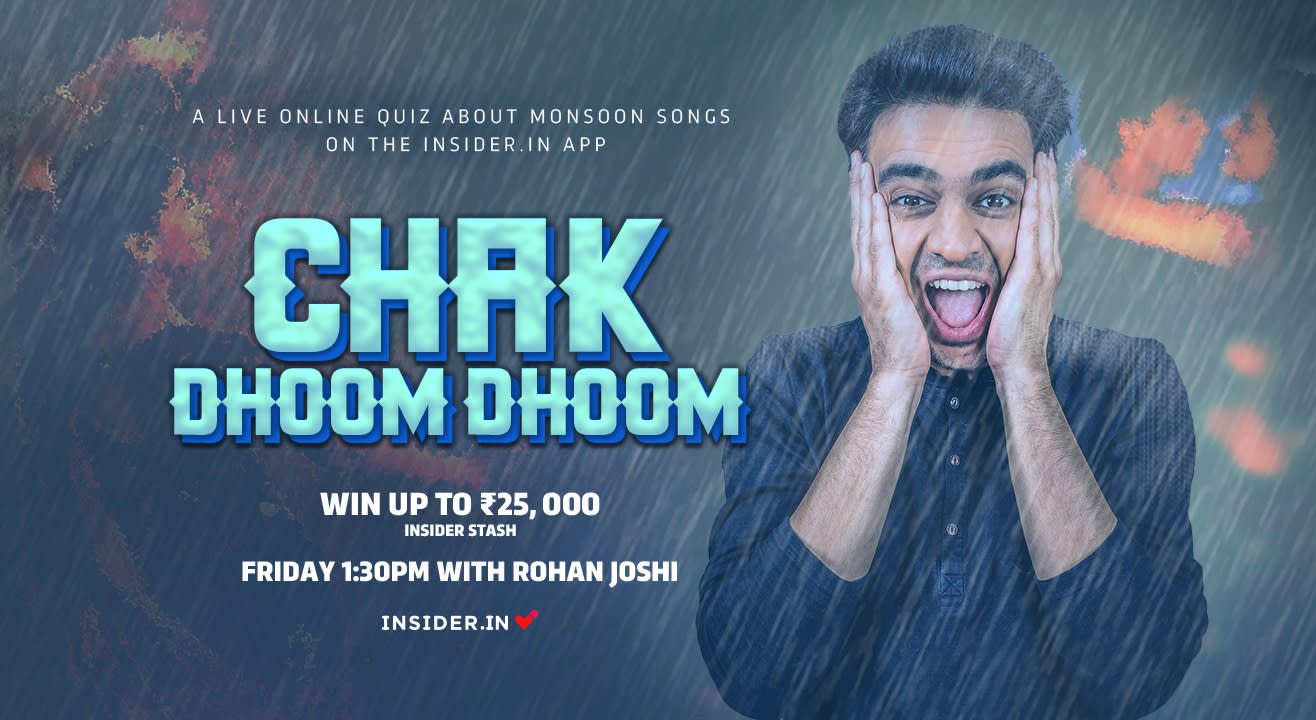 Games
This Week in Movies: Play it live on Insider.in App
Do you have what it takes to be the champion in movies? Take the quiz and find out.
Try the awesome interactive live video feature and play this quiz show only on the Insider.in app!
About the show
Are you a fan of the movies? More specifically, has the monsoon knocked at your doors yet? If yes, you may very well know that Bollywood and baarish make the "mausam awesome"! Play our "This Week In Movies" quiz dedicated to all the Bollywood monsoon dance numbers and you could win from a split pot of Rs. 25,000. Also, instant film buff status guaranteed.

When: Friday, June 21 | 1.30 PM
Host: Rohan Joshi
Theme for the week
Got caught in an unexpected rain? There are songs for that. Lonely and stuck in traffic while it's pouring? There are playlists for that. Can't get enough of those gloomy yet strangely beautiful clouds? There are some perfect tracks for that too. Since it's *finally* the wet weather season and you have probably started experiencing a lot of rain-related feelings, we have created the best quiz for it.

Tune in on the Insider.in app at 1.30 PM if you have always to sing and dance around in the rains, and play this week's quiz with Rohan Joshi!


P.S.: Don't forget the adrak chai and piping hot pakodas while playing!

How do I play this gameshow?
FAQs
1. How do I use my rewards?

Rewards are credited directly to your Insider account and will reflect in your profile page- https://insider.in/users/me. You can then use your rewards to buy tickets for any event on Insider.in! Check out awesome events near you on the insider.in app.
2. I couldn't participate. Can I watch the video elsewhere?

Unfortunately, you can only participate in shows that are hosted on Insider.in live! However, we do have a bunch of exciting shows coming up. To stay updated, follow the shows you're looking forward to under the 'Play it Live' section on the app. We will be archiving videos as well - you can catch the first episode below!


3. How do I check my historical scores?

At this time, historical scores are not available for public viewing. However, if you've won previous quizzes, your prizes will reflect in your Insider wallet. You can check this here- https://insider.in/users/me


4. My screen froze after I answered the last question. How do I check if I've won?

In case this happens, check if you've won by logging into your profile page to see if the reward has been credited to your wallet. You can view this here - https://insider.in/users/me
5. How do I check how many lives I have currently?

To see how many lives remain unused, please visit your Insider profile page here- https://insider.in/users/me. You can use these lives in any of our subsequent live shows! To stay updated, just follow the shows you're looking forward to here under the 'Play it Live' section on the app.
6. What are the recommended tech specifications to participate in Live on Insider.in?

We recommend you use the latest version of Android and iOS and be on either a WIFI or 4G connection.
Download the app to play!
The live feature is available exclusively on the Insider.in app. Click below to get started.
Subscribe to receive our newsletter!
Find the best experiences happening out there in your city or enjoy handpicked content while sitting comfortably at home. Insider is your go-to place to figure out what to do today!